First-timers to comic conventions and cosplay are welcomed at St. Pete Comic Con 2022 with panel discussions tailored to the new experiences by expert cosplayers. St. Pete Comic Con 2022 is a two-day, multi-genre comic convention features comics, anime, science fiction & fantasy, and cosplay. The convention is Jan. 8-9 at the Coliseum in downtown St. Petersburg. Tickets are $20 for single day and $30 for weekend pass.
"Attending a comic con for the first time can be intimidating so we are offering panels by experts to make St. Pete Comic Con more welcoming to beginners," said Dewey Caruthers, who is organizing the convention with his teenage daughters Blu and Scarlet.
Comic Con / cosplay 101
'Comic Con / Cosplay 101' is offered Saturday at 11 a.m., one hour after the convention begins, to allow first-timers the opportunity to attend the panel before fully experiencing the con. Panel attendees get an inside look into what has become a national phenomenon — comic conventions. The panel is hosted by @Avera_Cosplay, @AmazonCosplayer,  @MissTaurus.Cosplay_and_Art,  and @KDiddy3300 – four of Florida's top cosplayers. (more info below on guest cosplayers)
cosplay q&a: Ask the Experts
'Cosplay Q&A: Ask the Experts' is offered Sunday at noon. Beginner and intermediate cosplayers will have the opportunity to ask questions of a wide range of expert cosplayers. Q&A cosplay panels often are among the most popular because the flexible format that allows cosplayers to drive the topics and questions. The expert cosplay panel expands by adding @Dark.Lady.Cosplay and @SummerFireCosplay.
Do you want special cosplay advice or just wanna hang out with expert cosplayers?
Visit them in their booths in Cosplay Alley.  Stop by with your questions or just to chat. Don't be scared to say hello, they don't bite. Well, @MissTaurus.Cosplay_and_Art might bite. And @AmazonCosplayer can wield a blade. Moreover, @Dark.Lady.Cosplay has a bow, not to mention @KDiddy3300 with Falcon's weapons. Just be nice and you should be fine.
More info on Florida's top cosplayers who are instructors for beginner panels
We've provided more info below on the expert cosplayers who will be participating in the beginner panels. Cosplayers are coming from Jacksonville, Orlando, Fort Lauderdale, Fort Myers, and Tampa.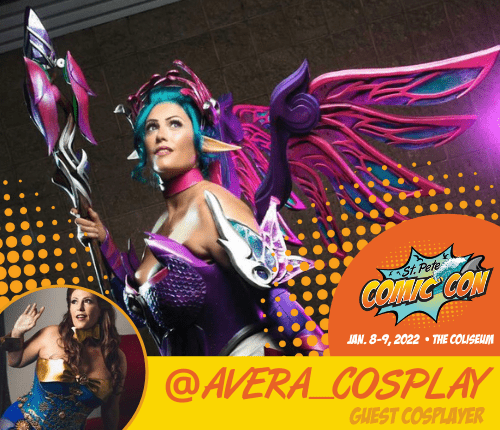 @Avera_Cosplay
Fort Myers cosplayer @Avera_Cosplay is among the most talented in the South. And it's not just our opinion. Her many convention cosplay awards are impressive. For instance, she has won awards at the largest cons in the nation like Megacon Orlando and Dragon Con in Atlanta. And she has awards from large Florida conventions like Tampa Bay Comic Convention and Florida Supercon.
In addition, her most recent win has her representing the southern region in a national cosplay competition.
Read more about her awards in our blog (click here)
@Dark.Lady.Cosplay
@Dark.Lady.Cosplay is a Tampa cosplayer who brings World of Warcraft characters to life. And she bring a lot of them to life. She has cosplayed more than 20 World of Warcraft characters, some with multiple versions. In addition, she has four more currently being crafted.
The cosplayer relates to the giant world with so many different characters. "The characters are so incredibly detailed in who they are I find myself drawn to their stories and how they all intertwine," she said.
Read more about her in our blog (click here).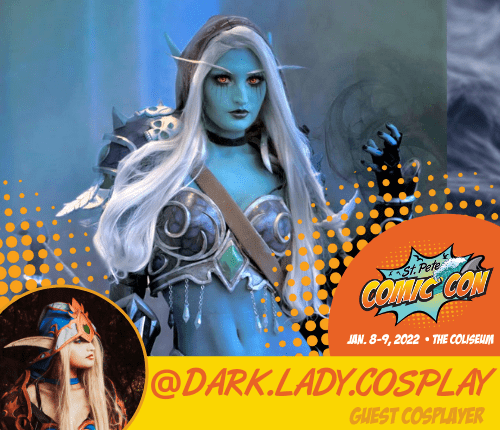 @MissTaurus.Cosplay_and_Art
@MissTaurus.Cosplay_and_Art is Florida's rising cosplay star, having won two best in show awards in 2021: Megacon Orlando and Omni Fandom Expo. And she has won nearly 20 cosplay awards at Florida cons since beginning cosplaying in 2013.
Read our blog about her (click here)
@SailorScoutsJax
Sailor Scouts is a Jacksonville-based group spreading the Sailor Moon hotness throughout comic conventions in Florida. The Sailor Moon group, which formed in 2015, appears at numerous conventions per year in The Sunshine State.
"We're dedicated to fighting the Negaverse and spreading positivity at cons throughout Florida," said SummerFireCosplay, a longtime member. 
Read more about the group in our blog (click here).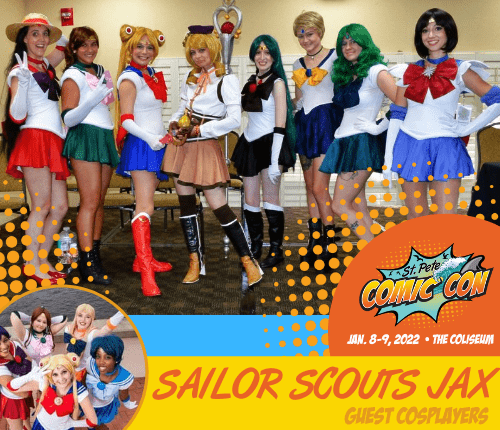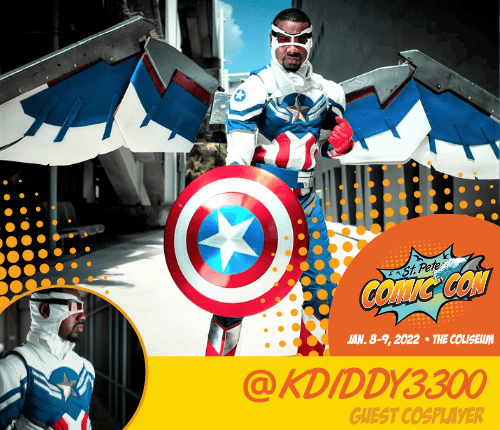 @KDiddy3300
Tampa cosplayer @KDiddy3300 may be one of the best ever Sam Wilson Captain America cosplayers. The wings, which span 10 feet, took him two weeks to build. And he commissioned the body suit, which was tailored for his physique.
He has crafted two Sam Wilson Captain America cosplays. Learn more in our blog about him (click here).
@amazoncosplayer
@AmazonCosplayer, who stands at 6 feet 3 inches in boots or heels, is Florida's tallest heroine cosplayer. From Fort Lauderdale, she travels the state attending conventions from the panhandle to central Florida, and of course in her home-base of south Florida.
Learn more about her in our blog (click here).